Now is the time when snow is melting, temperatures are rising, and the garden looks disastrous!
Soon enough your back yard is going to be filled with food, friends, family and picture after picture to remember each event! So, why not create a lively, attractive outdoor space with the simple addition of galvanized steel planters? By resurfacing existing containers, or building your own, you'll get this designer look at a fraction of the cost!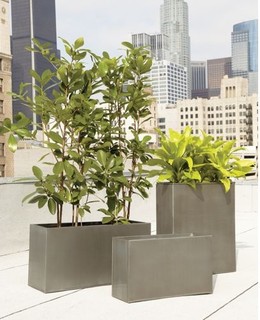 Give your garden some structure and modern style with do-it-yourself galvanized steel planters.  Galvanized steel sheet is affordable, durable, and comes in all shapes and sizes. This material is also a stock item in all of OnlineMetals 6 facilities nationwide. So, you could be building your new planters in just a few days!
Starting at less than three dollars for a 12″ x 12″ sheet, it is possible to create unique designs that would cost hundreds to purchase from a retailer.  Inspiration for fresh spring designs in galvanized steel can be found at stores ranging from Pottery Barn, to Restoration Hardware and Home Depot.
For simple instructions on creating a raised gardening bed from a variety of sheet metal materials, check out this story on Sunset.com.
If you give this one a try, send us a photo of your project. We love to see what our community is up to!
Email  your own project photos to us: sales(at)onlinemetals(dot)com.